Domain Shopping: Local Stores at the Domain
October 21, 2021
Domain shopping may be known for posh stores like Louis Vuitton and and Tiffany and Co., but there are tons of local stores at the Domain in Austin too! 
Austin likes to keep it local, so explore the local stores at the Domain. It's a great way to get something unique that no one else will have when Domain shopping! Here are some of our favorite picks.
Raven and Lily employs over 1,500 at-risk women in 10 developing countries. These women create the beautiful clothing and accessories featured in the Raven + Lily local store at the Domain. Raven + Lily pays these women a living wage to help them escape poverty and provide for their families.
Limbo was started by a husband and wife team. Every piece of jewelry is handcrafted by artisans right here in Austin and is warrantied for life. Pick out a one-of-a-kind gift while shopping at the Domain!
Eliza Page features curated collections created by select, independent artists in Austin and around the globe. All this beauty is showcased in their local store at the Domain. Their salespeople are always ready to help pick the perfect gift at any price point.
Kelly Wynne creates fun, luxurious handbags that will put a smile on your face when you carry them.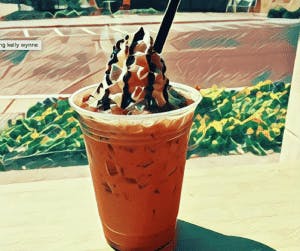 photo courtesy of @beecavecoffee on Instagram
Bee Cave Coffee Co. will create the best version of your favorite coffee drink with the finest, freshest locally roasted coffee from around the world. A great pick me up when shopping at the Domain!
Looking for an apartment in the Domain near Domain shopping? Let us help you find the perfect place near all the local stores at the Domain! Contact us today to find your new home at the Domain or anywhere in Austin!
Featured Image Courtesy of @beecavecoffee on Instagram